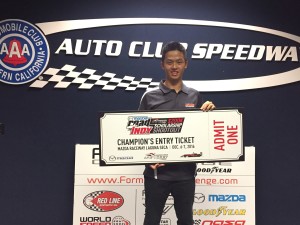 Cancer survivor and recently crowned Formula Car Challenge presented by Goodyear champion Jonathan Sugianto has earned an invitation to the inaugural Mazda Road to Indy USF2000 $200K Scholarship Shootout. Sugianto, 21, from Alhambra, Calif., secured the nomination over fellow FCC class winner Bruno Carneiro, 17, from Riverton, Utah, after both talented youngsters were invited to submit a video outlining their individual qualities and plans for the future. The final decision was made by representatives of Mazda and Andersen Promotions.
Sugianto's emotional video detailed his childhood battle with leukemia and a pivotal moment in his life when, in 2005, the Make-A-Wish Foundation provided an opportunity for him to meet his idol, four-time NASCAR champion Jeff Gordon. "That was the 'moment' for me," said Sugianto. "I knew right then and there I wanted to be a professional race car driver."
After overcoming his cancer, Sugianto competed in the Jim Hall Karting Series in Southern California, winning three championships before gaining an introduction to amateur car racing. The lack of a budget derailed his plans for a couple of years but Sugianto remained undaunted and found his way back in 2014 via the Skip Barber Racing Winter Series. One year later he was invited to take part in the VMB Driver Development Scholarship which included tests on his presentation, interview and driving skills. Sugianto again emerged victorious, earning a full season of racing in the FormulaSPEED class of the 2016 Formula Car Challenge, which he clinched recently by virtue of a thrilling come-from-behind double victory in the final two races at Auto Club Speedway in Fontana, Calif.
"It is a honor to be invited to the Mazda Road to Indy USF2000 $200K Scholarship Shootout," said Sugianto. "I can't thank everyone at VMB Driver Development, World Speed Motorsports, Formula Car Challenge and Mazda enough for allowing me the opportunity to showcase my skills, desire and potential. I feel truly privileged to be able to represent everyone who has put in their trust, confidence and support in my career. I'm eager to see what awaits at the shootout and I look forward to interacting with some of the most influential individuals in the industry."
The shootout will be held at Mazda Raceway Laguna Seca on December 5-7. The winner will secure a $200,000 scholarship to contest the 2017 Cooper Tires USF2000 Championship Powered by Mazda, the first step of the highly acclaimed Mazda Road to Indy Presented by Cooper Tires.
"Jonathan was a driver that World Speed and VMB selected for the 2016 VMB Driver Development Academy as we definitely saw a lot of talent and potential in him," said World Speed Inc. President Telo Stewart. "We are glad that Mazda, Andersen Promotions and MRTI saw it too. Beyond his on-track performance he is a great teammate, student and person who we have been fortunate to work with, and we know he will do well at the shootout."
More Information: