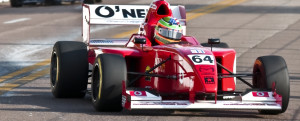 Recently crowned Pro Formula Mazda Challenge Champion Patrick O'Neill continued his winning ways in Rounds Thirteen and Fourteen of the Championship at Infineon Raceway to sweep the weekend for the fifth time this season, recording his eleventh and twelfth victories, in what has been an almost flawless season for the driver of the #64 O'Neill Construction Pro Formula Mazda.
"Once again my Mazda was working perfectly and I have to give thanks to my mechanic and to everyone at World Speed Motorsports for all their hard work putting together this championship," O'Neill said. "There were a couple of hungry drivers behind me this weekend and a couple of mistakes today almost cost me the race but I was able to bear down and reclaim the lead."
Saturday's event found O'Neill on the pole position with Chris Cumming in the #26 World Speed Motorsport Mazda lining up alongside for the start of the 21 lap event. As the green flag flew O'Neill was off to a strong start opening up a gap on the field as Cumming and teammate Paul LaHaye in the #4 World Speed Motorsports machine battled for second place. Cumming's race would be cut short as they came through lapped traffic, as contact with Mazdapalooza leader Jamie Slone in turn three would force him out of the event. LaHaye would claim his fifth podium of the season with a second place finish and Michael Gesser would capture his first podium of the year with a third place finish in his #2 Alaska Coffee Roasting Mazda.
Despite the contact with Cumming, Slone would hold on to claim his second Mazdapalooza victory of the season ahead of Doug Smith and reigning series champion Chaz Lemmon.
Qualifying for Sunday's round of the championship would once again be led by O'Neill with LaHaye claiming the outside front row position, edging out Cumming by 0.015 seconds. Both drivers would hound O'Neill on the opening laps this time, but O'Neill was slowly able to open up some breathing room. With five laps remaining O'Neill made an uncharacteristic mistake in turn eleven, spinning the #64 O'Neill Construction Mazda, but would be able to recover in time to maintain the lead, after another spin in turn eleven on the following lap he was not so fortunate and LaHaye assumed the lead as the laps wound down. Now in second place O'Neill set off after LaHaye and was able to work his way back into the lead with two laps remaining and hang on for the victory.
Sunday's Mazdapalooza race for Standard Formula Mazda drivers was no less dramatic as current series points leader Shawn Westerhoff, who was hampered by clutch trouble during Saturday's event, would capture the pole position and duel with Smith and Lemmon for most of the race. Westerhoff would finally catch a break when Smith spun and Lemmon checked up to avoid contact, allowing Westerhoff to open a gap to claim his second victory of the season.
Both series now prepare for the season finale weekend September 12-15 at Infineon Raceway.
More info on the series: