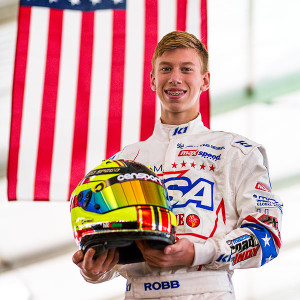 It was announced today that 15 year-old Sting Ray Robb will compete in
the Pro Mazda Championship presented by Cooper Tires
season with World Speed Motorsports for the 2017 season. This will be Robb's rookie season on the second step of the Mazda Road to Indy ladder. "Sting Ray has an impressive racing background," noted World Speed Motorsports President Telo Stewart. "In addition to an incredible karting resume, Sting Ray ran a limited schedule with us last year in the Formula Car Challenge, and is a proven winner. Sting Ray is ready for PMC and we are looking forward to helping him achieve his goals on the Mazda Road to Indy." The first race of the season takes place at the Grand Prix of Saint Petersburg in March.

Some of Sting Ray's accomplishments include:
Youngest competitor in NASCAR K&N Pro Series History
Race winner in the Formula Car Challenge FormulaSPEED class
Podium in his first outing in the Pro Formula Mazda
Bryan Herta Career Advancement Scholarship Winner
Skip Barber Rookie of The Year
Many major karting championships and world competitions
---
2017 Pro Mazda Championship Presented by Cooper Tires Prizes & Awards
The Pro Mazda Championship Presented by Cooper Tires will distribute over $1.1 million in prizes and awards in 2017. The series champion will receive a scholarship package from Mazda of $790,300 to advance to Indy Lights Presented by Cooper Tires in 2018. Additional champion's awards include a Cooper Tires Award for tires and series award for race entries.
Each of the top-three finishers in the championship will receive a one-day Indy Lights test. There is also a new Pro Mazda Rookie of the Year Mazda Car Award which features a new Mazda street car of choice to the winning driver. The awards are the largest in series history, and the budgets are the lowest they have been since 2003. 
Interested in running in the 2017 championship? Contact us.
---
A NOTE FROM STING RAY ROBB:
From the earliest time I can remember, driving a race car has been my dream. On my 5th birthday my parents got me my first kid kart, I was so excited I shouted "I've waited my whole life to be five!"  That dream, passion and drive has never dimmed… it has only grown brighter with each passing season and every increase in the size of the machine has been a sensational gift to me!
Moving from karts to cars over the last two years has been a whirlwind as I've explored nearly every venue;  everything from Corvettes to Pro Mazda, paved and dirt modified cars, as well as NASCAR Road and Oval Track cars.  Racing under the tutelage of Telo Stewart at World Speed Motorsports in the FormulaSPEED during this past season was an awesome experience and provided some clarity for my future plans.  Winning that class at the IndyCar Go Pro Grand Prix Finale in Sonoma was certainly one of the highlights of my life.  It now seems a natural progression to pilot the Pro Mazda for World Speed in the 2017 Pro Mazda Championship Presented by Cooper Tires.  I am very excited about the opportunity to again be working with Telo's talented, experienced, and dedicated crew at WSM.
As one of the youngest competitors in the Pro Mazda Championship, I know there is still a lot to learn and accomplish, a challenge I am very excited about.  I do not take this opportunity lightly and pledge to diligently prepare mentally, physically and spiritually as the WSM team guides me through the next levels of open wheel motorsport competition.
I am greatly humbled to be in this position at this juncture of my life and career.  All of "us" have worked tremendously hard (all the way back to my kid kart days) to reach this point.  I am so thankful and blessed for all my family, friends, fans, sponsors and financial supporters that have believed in me and sacrificed so much through the years.  So it is with a heart full of gratitude that I wish you and your families a blessed, safe and happy holiday season.  Stay tuned and enjoy the exciting ride with us starting in the Spring of 2017!   We'll keep you posted.
God Speed,
Sting Ray Robb