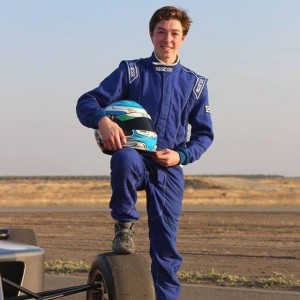 It was announced today that 14 year-old Colin Mullan will compete in the 2017 Formula Car Challenge presented by Goodyear championship with World Speed Motorsports. This will be Colin's rookie season in cars, and he will be racing in the
FormulaSPEED
class.
"We met Colin when
he received one of the coveted invitations to the annual WSM Rising Star Award test
," noted World Speed Motorsports President Telo Stewart. "This test is unlike any other test we have during the season. These hand picked drivers are run through a gauntlet of on-track and off-track activities that allow us to assess their level of professionalism. There are journalists and important series partners on hand, and this adds an additional amount of pressure. Colin's performance was exceptional throughout the test day, and we are very proud to have him join World Speed Motorsports for the 2017 season."
"I'm incredibly excited to join the team, said Mullan. "The FormulaSPEED is such a great car to drive. It's very well balanced and has plenty of power. World Speed put together an amazing package for the season, and I'm looking forward to working with a professional race team. It'll be an outstanding year, and I can't wait to start my open wheel career!" His father Dan had this to add, "Colin has been so passionate about cars and racing since the age of 4. It's amazing for me to see him ten years later having the opportunity to drive for World Speed in a FormulaSPEED open wheel car. I'm so excited for him to have an entire team around him to learn from. We are so looking forward to the 2017 season."
The opening race of the 2017 season will take place on March 18th-20th at Sonoma Raceway in California.
Some of Colin's accomplishments include:
2016: Sanzaru Games Karting Championship Jr. Rotax Champion, Sanzaru Games Karting Championship Junior Driver of the Year, World Speed Rising Star Award Winner, and VMB Driver Development Scholarship Finalist
2015: Sanzaru Games Karting Championship 3rd Place Jr Rotax
2014: Redline Oil Karting Championship 1st Place Mini Max, Rising Star Award
2013: Redline Oil Karting Championship 4th Place Mini Max
2012: Mini Cups: 1 Win, 3 Trophy Dash Wins (limited schedule)
2011: Mini Cups: WSRA 4th Place, Stockton 99 Raceway 3rd Place
2010: Baylands Jr. Stock Quarter Midget Champion
2010: Baylands Jr. Stock Quarter Midget Track Record Holder
2010: Jerry Mostek Classic Jr. Stock Quarter Midget Winner
2008: Quarter Midget World Record Holder for the fastest lap by a Jr. Novice
More Information: